Practice Areas
Anaheim Construction Accident Attorney
Construction is a vital industry throughout the United States. However, it is also highly dangerous. Each year, construction tops the list of the most dangerous industries in which anyone can work based on the number of workplace accidents and fatal workplace injuries reported. OSHA (Occupational Safety and Health Administration) is the agency that enforces workplace safety and health regulations, and OSHA consistently ranks construction as a very dangerous industry.
Experienced Legal Counsel For Anaheim, CA, Victims of Construction Accidents
If you or a family member work in construction and suffer injuries in a workplace accident, it is important that you understand your options for recovering your damages. Alternatively, if you were a bystander or passerby injured in an unexpected construction accident, you likely have grounds for a legal claim against the party responsible for causing the accident. In either case, the team at the Ali Law Group, PC, has the professional resources and experience you need on your side to maximize the results of your recovery efforts.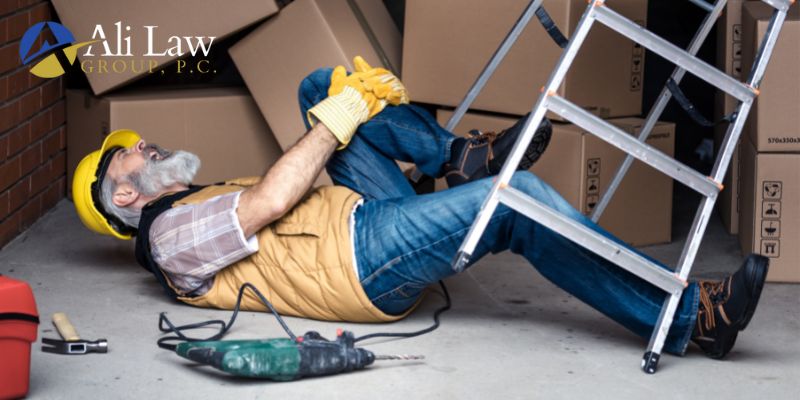 Filing a Workers' Compensation Claim
If you work in construction and sustain an injury while performing your job duties, you likely have grounds to file a workers' compensation claim through your employer's insurance carrier. Every employer in the state is legally obligated to carry workers' compensation insurance, and this insurance comes into play whenever a work-related injury occurs.
Construction accidents can potentially involve slips, trips, and falls, crushing injuries, electrocutions, injuries from falling objects, and injuries from construction vehicle accidents. As long as your injury happened while you were working, you have the right to file a workers' compensation claim and your employer may not interfere with the claim in any way.
You will need to report your injury to your supervisor immediately, and you will also likely need to visit a physician approved by your employer's insurance carrier for a medical examination. If you need emergency care for a severe injury, you can see any doctor, but after you stabilize, you must undergo an examination by an approved physician to have your disability rating assigned.
The disability rating you receive from the workers' compensation physician is a numerical indicator of your injury's severity. When you submit your claim to the insurance company, the disability rating is a major factor in determining the level of benefits you will qualify to receive.
What Kind of Workers' Compensation Benefits Are Available?
Workers' compensation typically provides two forms of compensation to an injured construction worker. First, they will usually receive full coverage for all the medical care costs they incur. The insurance company will pay for immediate treatments and rehabilitative treatments until the claimant reaches maximum medical improvement from their injury. Second, the insurance carrier will pay ongoing weekly disability benefits until the claimant can return to work.
Workers' compensation benefits paid weekly typically amount to roughly two-thirds of the claimant's average weekly income and can continue for up to 104 weeks. However, some claimants may qualify for extended benefits.
You typically cannot file a personal injury claim against an employer after a workplace injury, but there are exceptions to this rule. If your employer caused your injury intentionally or if they do not have appropriate workers' compensation insurance, these factors would negate their typical immunity from civil claims. You may also have grounds for a personal injury claim against another party if someone outside of your work caused the accident in question.
Filing a Personal Injury Claim for a Construction Accident in Anaheim
If a third party outside of your work caused your recent construction accident, or if you do not work in construction and suffered injuries as a bystander from an unexpected construction accident, you can file a personal injury claim against the party responsible for the incident in question. Success with any personal injury claim requires identification of the defendant who caused the accident, followed by proof that their negligence or intentional misconduct directly caused the personal injury in question.
Under California's personal injury laws, the victim of a personal injury has the right to seek compensation for their immediate and future medical expenses, lost income, and property damage. If the victim requires extensive ongoing medical care, the defendant is responsible for future medical treatment costs as well. Additionally, if the victim is permanently disabled from the accident, the responsible party could also face liability for the victim's lost future income if the accident has permanently diminished their earning power.
State law also allows the victim of a personal injury to seek compensation for pain and suffering. There are no caps or limits on pain and suffering in personal injury cases, so this could become the majority of your total case award, depending on how severe your injuries are. If you are able to file a workers' compensation claim as well as a personal injury suit against a third party, you can recover your medical expenses with workers' compensation as well as part of your lost income and then proceed to recover your remaining damages with your civil claim.
What to Expect From Your Attorney
It may be technically possible to pursue compensation for your construction accident on your own, but you have a much better chance of reaching positive results when you have trustworthy legal counsel advising you. Your Anaheim construction accident attorney can streamline the workers' compensation claim filing process significantly, ensuring you receive a fair determination of benefits and encounter no unjust interference from your employer.
If you have grounds for a personal injury claim, your attorney is one of the most crucial assets you have for maximizing the compensation you obtain from the defendant. The sooner you connect with the Ali Law Group, PC, after your construction accident, the sooner we can explain your options after a construction accident someone else caused. We focus on the client's individual needs in every case we accept, providing timely and detailed responses to questions and addressing all client concerns as they arise. Our goal in your construction accident recovery efforts is to help you fully understand the legal mechanisms in play and maximize your recovery as much as state law allows.
FAQs About Anaheim, CA Construction Accident Law
Can I File a Personal Injury Claim for a Construction Accident?
The state's workers' compensation laws generally prevent injured workers from filing civil suits against their employers regarding workplace injuries, requiring them to file workers' compensation claims to recover. However, you could have grounds for additional legal recourse if a specific party caused your construction accident. If any third party caused the accident in question, you could file your claim for workers' compensation benefits through your employer before proceeding with a personal injury claim against the at-fault third party.
Will OSHA Respond to a Construction Accident?
OSHA is required to enforce workplace safety regulations in the United States and investigate claims of noncompliance. In the event that your construction accident resulted from your employer's failure to abide by industry safety regulations, or if your employer neglected to address known safety issues after repeated complaints from employees, it is very likely that OSHA will investigate and penalize your employer accordingly.
How Much Is My Construction Accident Claim Worth?
If you can only file a workers' compensation claim for your construction accident, your employer's insurance company will likely cover the cost of your medical treatment and provide weekly disability benefits until you are able to return to work. If you have grounds for a civil suit against the specific party responsible for causing your accident, you can secure compensation for losses not covered by workers' compensation as well as your pain and suffering.
Do I Really Need to Hire an Anaheim Construction Accident Attorney?
It is legally possible for you to file a workers' compensation claim and/or personal injury claim after a construction accident without hiring legal representation, but you face many significant risks in doing so. You could overlook valuable avenues of recovery and settle for much less than you are legally entitled to claim. You could also encounter unfair treatment from an insurance carrier or other issues you do not know how to address on your own.
How Much Will It Cost Me to Hire an Anaheim Construction Accident Attorney?
The Ali Law Group, PC, accepts workers' compensation clients and personal injury clients on a contingency basis. You do not pay any legal fees for our firm's representation, and you will only pay our firm when we win your case. The contingency fee is a portion of the total amount we recover on your behalf, and if we cannot get compensation for you, you will pay nothing. Hiring our team as your counsel is financially risk-free.
The Ali Law Group, PC, has cultivated a strong professional reputation in Anaheim for providing efficient, compassionate, and effective legal counsel for injured workers in the area. Construction is an inherently dangerous field for anyone to work in, and accidents happen every day. If you have recently experienced any type of construction accident in the area, we can help you determine your options and how to maximize your compensation. Contact us today to schedule a no-cost consultation.
How Can We Help You Today?